Let's Go (Third Edition) - Bộ 3 giáo trình dành cho trẻ em rất hay!
--------------------------------------------------------------------------------
Đây là bản mới nhất (Third Edition) của bộ giáo trình tiếng Anh rất hay dành cho trẻ em, gồm sách và CD để bạn có thể tự dạy cho con em!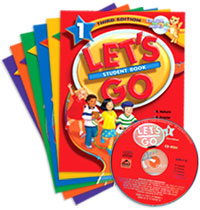 Author: Ritsuko Nakata, Karen Frazier, Barbara Hoskins, and Carolyn Graham
Publisher: Oxford University Press
File type: MP3 & CUE (Audio), pdf
[code]More Info:
Quote:
The world's favorite children's series, fully revised with brand new components!
This major new edition builds upon Let's Go's reputation for proven success in the classroom. The core syllabus has been developed through extensive teacher feedback. New and exciting support materials confirms Let's Go as the leading teacher-friendly series available today.
Key features
• Improved through teacher feedback.
• More vocabulary work.
• More opportunities for review and recycling.
• New phonics activities.
• Updated material and a bright, new look.
• Revised syllabus for smoother progress across the levels.
• New support and choice, in class and at home.
• New CD-ROMs with the Student Books.
• New Phonics Workbooks with Audio CD.
• Skills Book with Audio CDs.
• New Readers series - 8 titles at each level.
• New lesson quizzes, unit tests, and review tests, mid-term exams, and final exams.
• New Let's Begin level for beginning students.
• New online support.
LEVEL 1: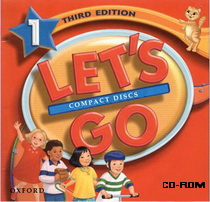 STUDENT'S BOOK Level 1 (All units - PDF)
[code]:
mediafire.com mediafire.com/?ne0j0etixeh
rapidshare.comrapidshare.com Let_s_go1.rarAudio
CD 1&2:
[code]:
megaupload.commegaupload.com JNRR3TGP
mediafire.com mediafire.com/?bzntmxoqtp1LEVEL
2
STUDENT'S BOOK Level 2 (All units - PDF)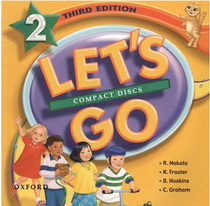 [code]:
mediafire.com mediafire.com/?2ikjden2529
rapidshare.comrapidshare.com letsgo2.zipAudio
CD:
The following are arranged from track1-10 (10 tracks per link) each to the final tracks of the CD.
[code]:
CD1:
megaupload.commegaupload.com U8EK1CT8
mediafire.com mediafire.com/?xmwvnuqyntt
CD2: bổ sung sau LEVEL 3
STUDENT'S BOOK Level 3 (All units - PDF)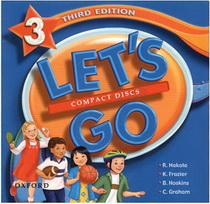 [code]:
mediafire.com mediafire.com/?mytyowjaqf0
rapidshare.comrapidshare.com let_s_go_3_sb.zipAudio
CD 1,2&3:
[code]:
megaupload.commegaupload.com ZWFVGK5R
mediafire.com mediafire.com/?fs3tmmn0kybPass
if need:
Pass if need:
[/code]:
englishtips.org
__________________